2.2 cents / gallon
If you haul your water,  check at our bulk water filling station. Our bulk water is available 24/7.  To ensure accurate metered vending every time, our bulk water system is equipped with state of the art technology. We accept cash, check, and credit card for your convenience. Call (719) 859-3998 with questions about this service.
Water Delivery Service is also available.  Clint Adams can deliver your water. He is professional, reliable, and affordable.  Please call 719-680-3042 or 719-859-3998 for more information.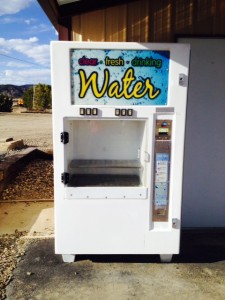 The Reverse Osmosis Water (RO) is 99% pure of all contaminants and impurities such as total dissolved solids, chemicals, bacteria, and viruses. RO water is treated with microfiltration process to remove suspended solids. Activated carbon is used to remove organic compounds, pesticides, and chlorine. Then, reverse osmosis is used to remove heavy metals, some minerals, salts, and total dissolved solids. A post carbon filtration process takes place to ensure great tasting water. Finally, ultraviolet light is used for final sterilization. Our machine is NEMP/NAMP certified. We sell BPA-free plastic bottles that range in price from $7.00-$20.00. RO water is great for beer, tea, coffee, and wine making.  RO Water is .25 cents per gallon.